CDL Class A Regional Owner Operator Truck Drivers- Premium Pay
Call Today!
888-290-3965
Location
Newark DE, Wilmington DE, Smyrna DE, Dekalb IL, Schaumburg IL, Joliet IL, Chicago IL, Gilman IL, Rockford IL, Moline IL, Ottawa IL, Kewanee IL, Peoria IL, Bloomington IL, Anderson IN, Indianapolis IN, Roselawn IN, Plymouth IN, South Bend IN, Angola IN, Fort Wayne IN, Kokomo IN, Wabash IN, Cambridge City IN, Portland IN, Lafayette IN, Monticello IN, Waynetown IN, Monticello IA, Louisville KY, Georgetown KY, Owenton KY, Frankfort KY, Florence KY, Girdletree MD, Ocean City MD, Hutchinson MN, Minneapolis MN, Rochester MN, Mankato MN, Worthington MN, Granite Falls MN, Saint Louis MO, Monroe City MO, Memphis MO, Kansas City MO, Bethany MO, Rock Port MO, Saint Joseph MO, Chillicothe MO, Columbia MO, Abie NE, Pender NE, Omaha NE, Lincoln NE, Snyder NE, Hartington NE, New York NY, Long Island City NY, Albany NY, Glens Falls NY, Indian Lake NY, Plattsburgh NY, Syracuse NY, Watertown NY, Binghamton NY, Rochester NY, Hornell NY, Oklahoma City OK, Enid OK, Tulsa OK, Muskogee OK, Yankton SD, Sioux Falls SD, Lewisburg WV, Charleston WV, Beckley WV, Kenosha WI, Milwaukee WI, Beloit WI, Madison WI, Platteville WI, Green Bay WI, Stevens Point WI, La Crosse WI, Eau Claire WI, Appleton WI, Connecticut, Kansas, Massachusetts, New Jersey, Pennsylvania, Virginia, Ohio, Rhode Island
Hiring Radius
0 miles
Van Wyk is a small company with a family environment that believes in fair and ethical treatment of all employees. We are a stable company with over 55 years of business history where drivers are treated with respect and integrity. With a management team that has been behind the wheel, we understand what it's like to drive. 


Driver Advantages:
Assigned fleet managers 
Home every week for 1-2 days
A premium pay package
All tractors have refrigerators, Webasto or Espar heaters and high-end specs
80% of tractors less than 1.5 years old and are assigned
All trailers air-ride and less than 5 years old
Paid weekly
Health/Dental Insurance
Paid vacations
401K with company match
Requirements:
Minimum age of 23 years old
Class A CDL
1 year of recent OTR experience (possible training for inexperienced CDL holders) 
No more than 3 moving violations in past 3 years
No major violations on MVR in last 5 years 
No major preventable accidents in last 3 years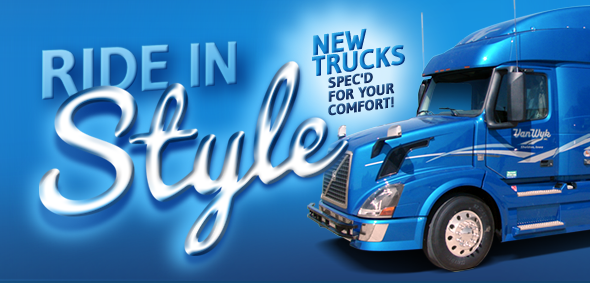 Call Today!
888-290-3965
Job posted by