Regional CDL-A Drivers Earn up to $75,000 annually!
Call Today!
800-677-5627
Location
Menomonee Falls WI, Sheboygan WI, Kenosha WI, South Milwaukee WI, Waukesha WI, Milwaukee WI, Racine WI, Beloit WI, Janesville WI, Sun Prairie WI, Madison WI, Lancaster WI, Platteville WI, Adams WI, Reedsburg WI, De Pere WI, Manitowoc WI, Green Bay WI, Stevens Point WI, La Crosse WI, Tomah WI, Oshkosh WI, Appleton WI, Neenah WI, Chesterfield MO, Saint Louis MO, Saint Charles MO, Bowling Green MO, Monroe City MO, Kirksville MO, Chillicothe MO, Columbia MO, Louisville KY, Lexington KY, Frankfort KY, Florence KY, Bowling Green KY, Owensboro KY, Elizabethtown KY, Warren MI, Ann Arbor MI, Detroit MI, Lansing MI, Kalamazoo MI, Battle Creek MI, Jackson MI, Adrian MI, Grand Rapids MI, Saint Paul MN, Eden Prairie MN, Minneapolis MN, Bloomington MN, Rochester MN, Austin MN, Winona MN, Mankato MN, Pittsburgh PA, Hershey PA, Lebanon PA, Mechanicsburg PA, Harrisburg PA, Easton PA, Allentown PA, Scranton PA, Philadelphia PA, Reading PA, Clarksville TN, Hendersonville TN, Lebanon TN, Nashville TN, Cookeville TN, Iowa, Illinois, Indiana, Ohio
Hiring Radius
50 miles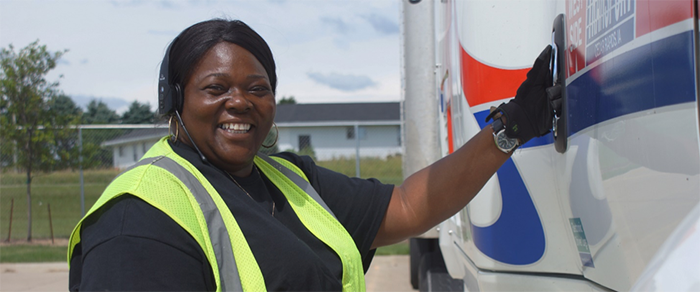 ---
Are you looking to take your driving career to the next level? Look no further! West Side Transport is now hiring CDL A Truck Drivers! We offer a $55,000-75,000 annual salary and guarantee that you will be HOME WEEKENDS!

Here's what we have to offer:
* $55,000-$75,000 annual salary - newly issued pay increase
* Up to $0.50-$0.58 cents per mile
* Weekly minimum pay commitment
* 99% No-Touch freight!
* HOME EVERY WEEKEND!
* Stop pay, layover pay, range pay, detention pay, breakdown pay
* Medical, Vision, Dental Insurance options
* 401(K) with company match
* Dog policy - up to 2 dogs per driver
* West Side Transport Driver App
* Driver Referral ($2,000 per referral)
* Much, much more!

Requirements:
* Valid Class A CDL
* Schedule Flexibility

Get to know us!
West Side Transport was started in the late 1960s by the Vogt family - and is still family-run to this day. The business began salvaging grain spills at train yards using just a couple of trucks and shovels. As the business grew, the Vogts added semi-tractors and hopper trailers to accommodate customer needs. By the late 1980s, our trucking operation had expanded into the truckload, dry van business.


Call Today!
800-677-5627
Job posted by